Chris Russello received his first scuba diving certification in October 1972. Because of his passion for diving, he left the corporate world in 1997 and opened his first ALOHA DIVE store. He has over 10,000 dives to his credit, (and is still counting).  He currently holds a worldwide certification as a Master Instructor Trainer with NAUI and is the West Coast Regional Training Director with NASE.  In addition to these current certifications, ​Chris was a SSI Master Instructor Certifier, SSI Advance Nitrox Instructor, SSI Tek Instructor, TDI Advanced Nitrox Instructor, SDI Instructor, ANDI Safeair1 and 2 Instructor and has held an instructor rating with another agencies. Additionally he is an equipment specialist and holds multiple factory certifications as a Master Repair technician.  Chris also holds a U.S. Coast Guard Merchant Marine 200 ton Captain's license.
Deb Disney is a partner, the Lead Instructor, Marketing Director and Coordinator for all ALOHA DIVE trips.  She started her diving career in early 2015 and it has become her passion in life.  Since the time she started, she has logged over 2000 dives and has achieved a Master Diver, TEK 1 and is an Instructor Trainer.
Deb always is smiling and brings a positive, professional and passionate attitude to the business of diving.  The family and friends of ALOHA DIVE love working and diving with her.  Chris is lucky to have a gal like Deb as his partner.
Kit Kaffer has over 40 years of dive experience.  He has brought his passion for diving to Aloha Dive and our clients love him.
Besides being a personal trainer (second to none) he is a NAUI, NASE & PADI Instructor as well as a NAUI Technical Instructor, Mixed Gas TRIMIX, Closed Circuit Rebreather  & Cave diver.
If you are looking for a chance to do some technical diving, Kit is your man!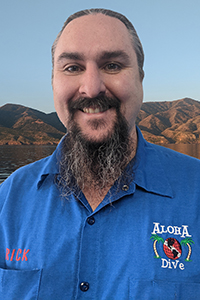 Rick Willett Caught the Scuba bug and quickly moved from "customer" to "Professional" after earning his Instructor certification 4 years to the day after finishing his Open Water class.
Often seen as the Divemaster or 2nd Captain on the Everleighbelle in the crazy shorts, he holds a USCG Merchant Mariner's Captain's license as well as Scuba Instructor certification to better help out on both sides of the surface.
He's also likely to be spotted either helping out in the store or just passing the time with the Aloha Family.
Rick enjoys spearfishing and wreck diving (and lets's be honest, all diving!) when not working with students, and after spending time on vacation diving in warm water always looks forward to the beautiful kelp forests of home.
John Jay is a NAUI and NASE dive instructor, a 70-meter-rated technical and rebreather diver, and an AAUS Scientific Diver with over 1,300 dives. He regularly volunteers as an exhibit diver with the California Science Center in Los Angeles and as a surveyor with ReefCheck California. His dive-related skills include teaching, wreck diving, cave diving, technical diving, underwater research, salvage, and silent diving on his KISS rebreather. He is an avid dive traveler, logging 12 trips in 2021 alone. Having once been afraid of the ocean, his fear transformed into passion. Now, he treats every dive like a treasure hunt, diving virtually anywhere, anytime, with an ultimate goal of diving every possible environment and on every continent. As an avid learner, he currently holds 30 dive certifications, and his plans include additional certifications in ice, stage and cave DPV diving as well as underwater archaeology and a 100-meter depth rating, along with wreck trips to Florida Keys, the Great Lakes and the Red Sea. Catch him if you can, while he's in town!
Karin Shine Her life as a SCUBA diver started during a summer vacation at Oahu's North Shore at Shark's Cove. She wanted to see the fish and turtles from another point of view other than the limiting view from the top. She asked the SCUBA divers there only one question: "Can I learn this, too?" "Oh, yes, you can. Just go to a dive shop, they'll show you," was their answer. Back at home she called various dive shops to get a feel and one of the dive shops was Aloha, everything in Hawai'i is Aloha, so she signed up for an Open Water Certification. Soon her diving skills went from Open Water Certification to Advanced while getting more and more comfortable in the ocean. Now she is able to take pictures of marine life at depths ranging from ten to sixty feet in the water column which all went to her favorite social media outlets, counting the likes. She turned another corner, signing up for NAUI Rescue Diver certification adding problem-solving skills at depths and at the surface to the repertoire. From here on it became a natural development moving on to Dive Master and to Instructor allowing her a leadership role under and above water, able to introducing people to SCUBA diving when they ask the question: "Can I do this, too?" "Yes, it can be done with Aloha."
Matt "Dragon" Howard grew up in Southern California and has always enjoyed being in or around the ocean. After many years of watching his father dive, he decided it was time for him to try it. He found Aloha Dive and signed up for a scuba class in 2000. That year he quickly logged over 180 dives. With a new found love of the underwater world he started teaching in 2001. Now with over 20 years of diving experience in the dive industry he has drove all around the world but still loves SoCal's Channel Island for its kelp forests and biodiversity. He loves being an instructor and sharing his love and knowledge of the underwater world for a safe and fun diving experience.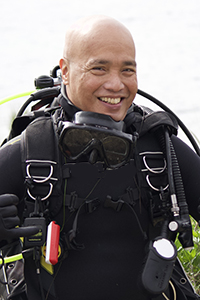 Phil Bejerano was born in the city of Zamboanga in the Philippines. He started SCUBA diving with the Philippine Special Warfare Group of the Philippine Navy in the '80s. He then started his SCUBA certification with NAUI, and eventually progressed to become a Master Diver. Currently a NAUI Divemaster, Phil has over 37 years of SCUBA experience, with over 5,000 logged dives and has dived various locations around the world.
Phil's underwater interest include underwater photography, and videography, and night diving.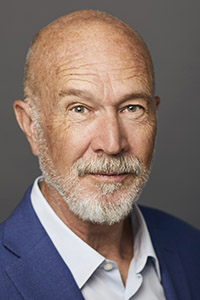 Stewart Deats, a native of Los Angeles, became a commercial diver at age 12 when he dove for quarters tossed by tourists off the SS Catalina, at the old Avalon Pleasure Pier.
He became NAUI certified in 1977 after a trip to Baja California, where he tried the local version of Discover Scuba, which consisted of the instruction to "breathe normally."
Stew is a NASE certified Divemaster and an avid beach diver, he enjoys discovering and re-discovering dive sites along the southern California coast.
His underwater interests include videography, photography, species identification, lobster hunting, night diving, dive travel and just having fun. He brings a wealth of experience and a love of the sport to share with other divers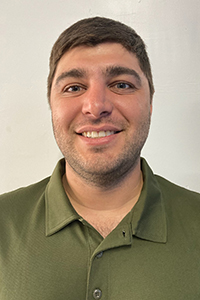 Alex Kolesa developed a passion for diving in 2004 when he first earned his Open Water Certification. He progressed through the levels of training and currently holds a NAUI Divemaster rating. Since the beginning of his dive career he has logged hundreds of dives and is always looking for new underwater adventures. He is also an active member of the Los Angeles County Sheriff's Reserve Dive Team and is an avid gold prospector, mining both on land and underwater.
L​ance started his life as a show dog extraordinaire.  After finishing his AKC championship he then moved on to the couch and became the shop's mascot.
Lance is one big fat mamas boy, loves Papa Duck Chris, but most importantly,  he has become the meeter & greeter at ALOHA DIVE.  He is always quick to wag his tail and meet you at the door and possibly give you a big kiss and smile (yes, he does smile), but don't be fooled, what he is really hoping for is a hand out of his favorite treat, the peanut butter pretzels that are kept in the shop.
Lance is currently not scuba certified.