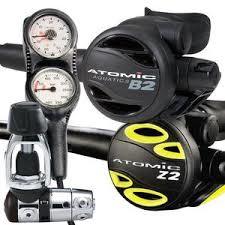 In today's e-commence world of on line shopping, scuba equipment is no exception. The scuba equipment manufacturers have made it easy for you to roll out of bed, pour yourself a cup of coffee, and sit down in your favorite chair without getting dressed and "surf" the internet for prices on scuba equipment.
This makes is tougher for scuba "brick and mortar" retailers to lure customers into their store to purchase equipment. However, does the consumer really know what to purchase when it comes to buying scuba equipment? Maybe or maybe not!
There are many variables when it comes to on-line stores, i.e. "gray" market equipment. It may or may not be an authorized dealer. Refurbished or return items? Discontinued Items? May or may not have manufactures warranty? Just to name a few.
Let's say the on-line store is an authorized dealer for a scuba regulator system. You order it and they ship it right to your door in boxes; now what? Who is going to assemble and test it for you? Maybe your local dive store? If they do and don't charge you a fee, you are lucky. However, most dive stores will charge a set up and test fee. When you add up the total cost did you save money from the on-line store?
You make a few dives then your equipment has problems, now what? If you bought from an on-line store you have to send it back to them, pay for shipping and wait for them to return it to you. However, if you bought it from your local brick and mortar dive shop, they will help you fix the issue and possibly immediately. If it needs to be sent back to the manufacturer, maybe without having you pay for additional shipping or down time, isn't that worth something? How about if the item has a recall? If you did not purchase from an authorized dealer, you might NEVER know about the recall. Again, if it is recalled, you will need an authorized dealer to send it back to the manufacturer.
I only bring this up because a customer of mine recently bought a computer from an on-line store at a friend's recommendation. This on-line store was not an authorized dealer for this computer and it failed. He came to me with this problem; I informed him that the computer must be sent to the manufacturer from an authorized dealer in order for the warranty to be valid. Since he did not purchase this item from an authorized dealer there was nothing I could do for him as I don't carry this brand in my store. I informed him to contact the on-line retailer he purchased it from. My customer informed me he did and there is nothing they could do for him. Unfortunately, in my opinion, he owns a very expensive paper weight.
Scuba equipment is "life support" so my question is, why would you buy life support equipment on-line just to save maybe a few dollars? If you took up sky diving, would you buy a parachute online to save a few dollars? I cannot believe how many people say no to that but still buy a regulator system on-line.
Your local "brick and mortar" dive stores are professionals when it comes to life support equipment. They dive the equipment, service it and train divers. When it comes to price, they usually match on-line prices. Trust the professionals and support your local dive store, you will be glad you did.
This is the opinion of the writer. I welcome your questions, comments or views.
Please contact me at aloha@dive-aloha.com
Until next time…dive safe.