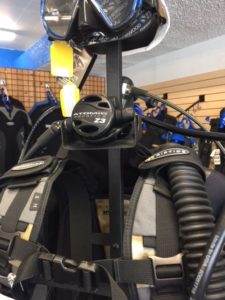 Scuba Diving is a wonderful sport.  Not only do you see things that most people only dream about but being in the water is one of the few environments where there are no phones, faxes or text messages.  The pure joy of dropping down and seeing a Giant Black Sea Bass or a harbor seal buzzing around you is amazing.  Giant kelp beds swaying in the water…just beautiful!  But, to keep the sport safe you should invest in yourself.
Why do I say to keep the sport safe?  Dive gear is a very personal thing and is very dependable.  It is your LIFE SUPPORT!  To be safe (after all we are visiting an environment where neither man nor woman was designed to go) you need gear that fits correctly and is comfortable, designed for the type of diving you will do, and you need to be trained in the proper use of the equipment.  Each piece of gear has a specific function and purpose and you need to understand the gear you are using.  You also need to keep it serviced at the recommended intervals.
An authorized dealer understands the products they sell.  They know the features, benefits, applications, are authorized and TRAINED to fit, assemble and service the gear.  They also provide the service of being the link between you and the manufacturer for sales, service, warranty repairs and recalls.
Most of us have heard the expression, "if it sounds too good to be true it probably is!"  This holds true for dive gear.  It is very easy to purchase gear online and for a "great" price.  But is it really such a good deal?  Are they an authorized dealer?  For example, many Internet sellers acquire the products they sell through gray market, or third-party channels.  They are not authorized to sell or service the products, they are not trained by the manufacturer and will probably not ship it assembled.  It might even be sold without the original parts or may have been used and returned.  For these reasons most manufacturers will not warrant products sold by unauthorized resellers, so they are selling it without a warranty enclosed or may include their own warranties that look valid by are not recognized by the manufacturer.  Additionally, you will not be notified if a particular product has a recall or an update.  How do you know if they are an authorized dealer?  Call the manufacturer directly or go to their website and check for authorized dealers.  If they are not on the list, check with the manufacturer directly and verify.
Here at ALOHA DIVE we strongly believe that the commitment to become a diver, and not just be certified, includes investing in yourself and purchasing dive gear.  It is a good investment and can last years of diving and travel.  It can take you to incredible places and give you memories that will last a life time while keeping you safe.  You know how it has been serviced and how it performs.  You are comfortable.  Our saying is "comfort + safety = enjoyment."
At ALOHA DIVE, we sell gear from some of the worlds largest and most reputable manufacturers.  We know the products and can recommend what is best for you.
These are the opinions of the author and I invite any and all comments.